How Modular Solutions are Leading the Way in Hotel Innovation
The hotel industry is undergoing a remarkable shift with the burgeoning popularity of modular solutions. This revolutionary building method is gaining traction for its ability to deliver faster construction timelines, cost savings, enhanced quality control, and sustainable practices.
Let's use the largest hotel chain as an example.
Marriott International, a leading hotel chain, is one of the most high-profile names making significant strides in adopting modular solutions for its properties. By leveraging the modular approach, Marriott aims to achieve a greater return on investment. Marriott's pioneering efforts provide an ideal case study on the benefits modular solutions bring to the hotel industry.
Marriott International has forged ahead in promoting modular, especially within the North American market. In 2017, Marriott projected the signing of over 50 hotel deals in the region, incorporating prefabricated guestrooms or bathrooms, accounting for more than 10% of select brand signings that year. Marriott's Chief Development Officer of Select Brands, North America, Eric Jacobs, praised the innovation, stating, "Construction is the next frontier for innovation, and modular is leading the way."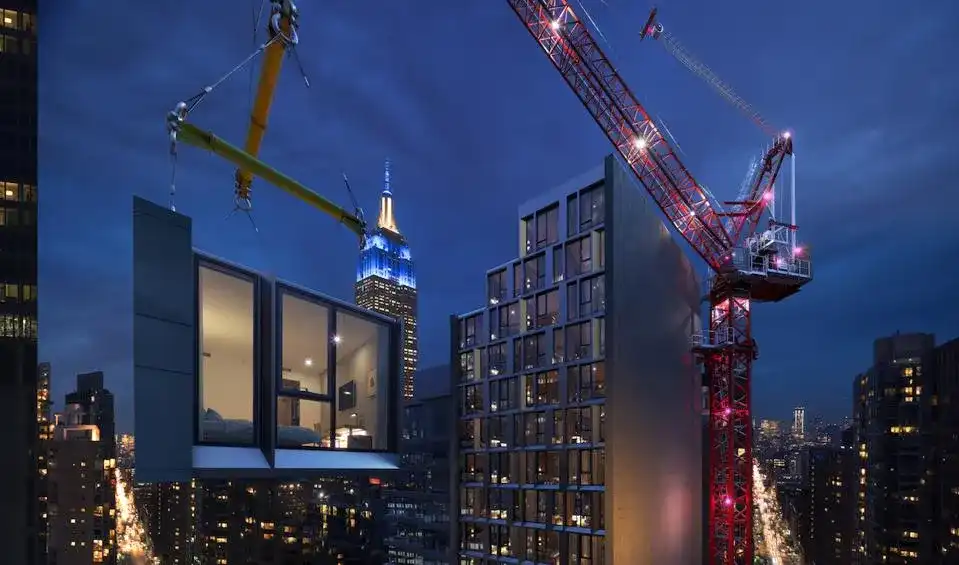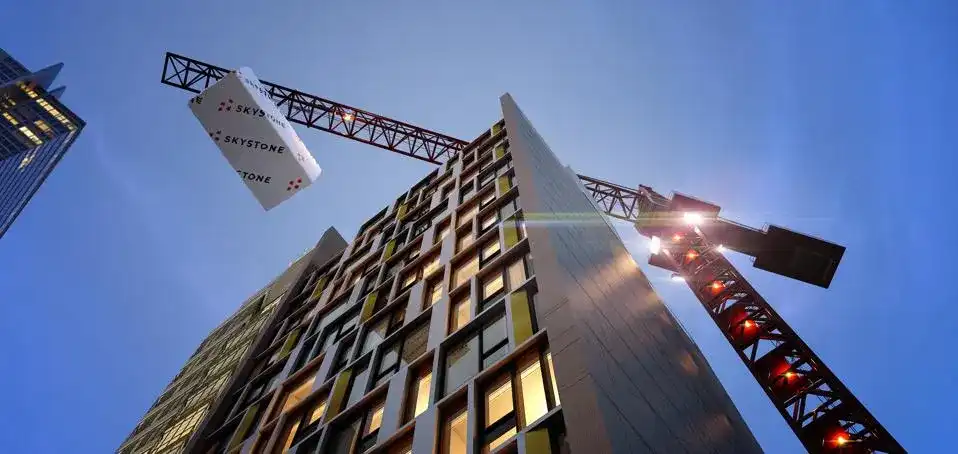 Marriott's journey into modular began in 2014 when it identified potential partners capable of manufacturing hotel spaces. Over the years, Marriott collaborated with early adopters of modular solutions and educated lenders about financing such projects.
The company's proactive approach is indicative of a broader trend in the hotel industry. As the demand for sustainability, efficiency, and cost-effectiveness rises, hotel chains are increasingly exploring innovative methods to stay competitive and deliver exceptional guest experiences. Modular solutions provide a viable option by offering numerous benefits that align with the industry's evolving needs.
The faster construction timelines, by up to 50% in certain cases, associated with modular methods translate to quicker hotel openings, enabling chains like Marriott to capitalise on market opportunities promptly. The hotel can start generating revenue sooner, optimising return on investment for property owners.
Modular solutions also ensure greater precision and quality control due to the controlled factory environment. The standardised production process minimises variations in design and materials, resulting in consistent and higher-quality hotel spaces. These facilities play a vital role in ensuring consistency. Each module is meticulously designed and crafted to adhere to strict international specifications, eliminating the potential for human errors or deviations that may occur if the entire process is conducted on-site. Consequently, this standardised approach yields consistently high-quality structures, free from the inconsistencies and imperfections often associated with traditional building methods. The result is a seamless, efficient, and aesthetically pleasing environment that enhances the guest experience.
About Moddsys
Modular solutions involve fabricating hotel guestrooms and bathrooms off-site in a controlled factory environment such as ModDsys's state-of-the-art climate-controlled production facility in the Dubai Investment Park . These prefabricated units are then transported to the hotel site, where the base podium has already been built. Using cranes, the modules are seamlessly assembled, and on-site workers complete the remaining tasks, such as electrical, plumbing, and finishing work. This efficient approach streamlines the construction process, minimising delays often caused by skilled labour shortages and unfavourable weather conditions. At ModDsys, we know that change can be hard. That's why we want to work closely with businesses, use our knowledge to help, and guide them as they start to use new and environmentally friendly ways of building hotels. We want to make special guest experiences by using high-quality, carefully made, and green modular solutions.
The future of the hotel business will be using modular methods. Contact us today to learn more about how our team can support your transition towards efficient, cost-effective, and sustainable modular construction. Let's build a future together!

Share
Similar posts
Ready to build better?
Build better, safer and stronger at twice the speed when you opt for modDsys' proprietary Modular Solutions methodology.